2006 12 07
The Urban Beach Meets Steve Mann's Hydraulophone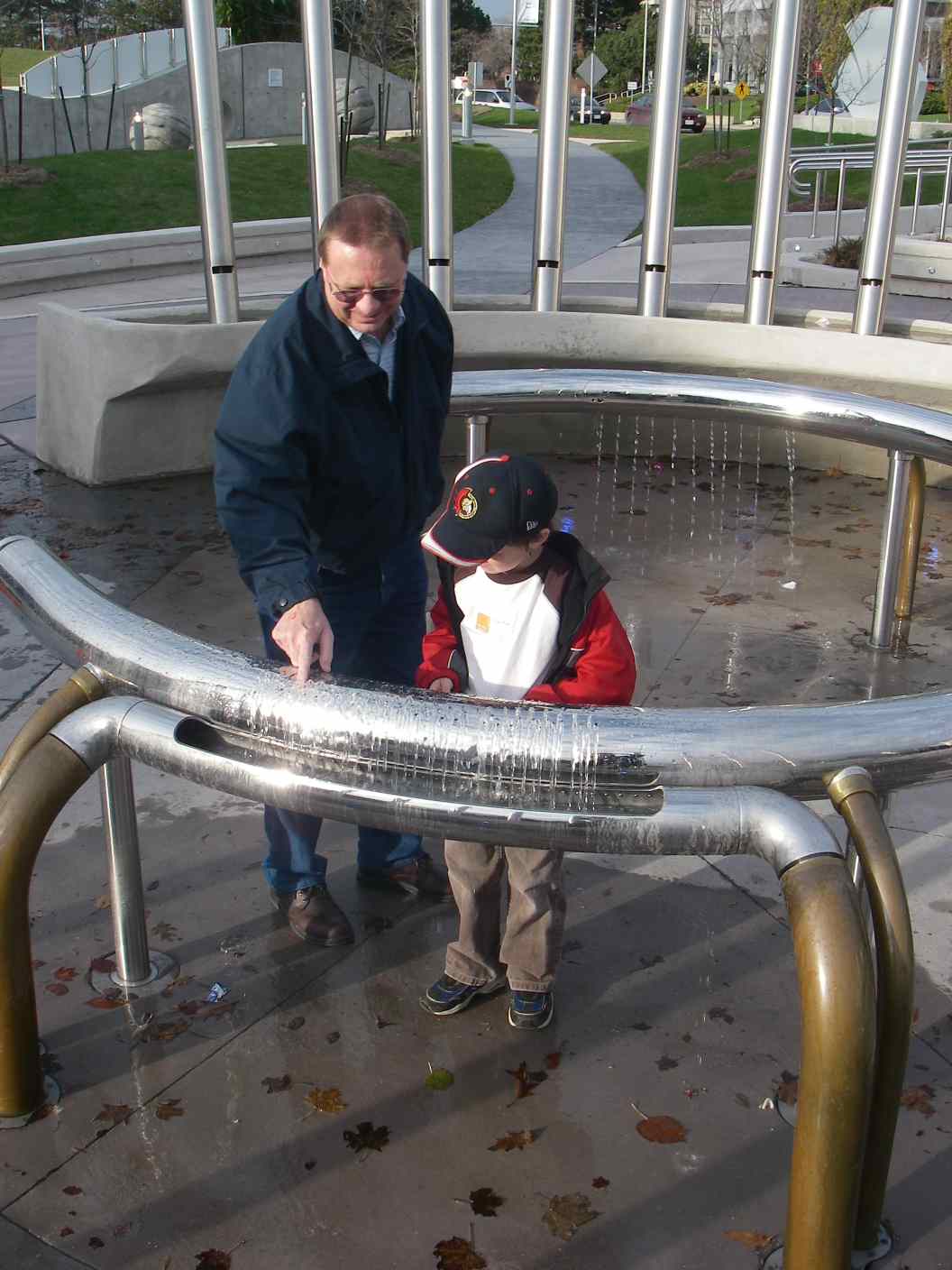 Playing in the water: Even on cold Fall and Winter days, people are still drawn to play in the water to experience the soulful call of the hydraulophone, a sound sculpture and musical instrument that you play by putting your fingers on water jets. Hydraulophones used as landscape architecture give aquatic play a sophisticated and spiritually uplifting artistic element that draws people of all ages, not just children, to play in the water.
---
By Steve Mann
"Urban Beaches" ("urbeaches")

are spaces that cross or challenge the traditional boundaries that have existed between professional civic life and the more playful elements of recreational life.

The urbeach mixes the formal majestic tone of urban life with the informal playful tone of beach life.


Toronto presently has two prime examples of urbeaches:
Dundas Square (at Yonge and Dundas); and TELUSCAPE (the landscape architecture out in front of Ontario Science Centre). A third one is also in the works: The Rosenberg/Cormier design known as HTO, the "Urban Beach" garden on the waterfront, at Queens Quay W. and the foot of John St..


It is a wonderfully telling sign, that two of Toronto's architectural landmarks, Dundas Square, and the Ontario Science Centre, each feature an aquatic play facility as their main centerpiece.


Dundas Square, for example, is considered to be the city's "symbolic core", quoting a previous Reading Toronto article:


Planners decided to make the corner of Yonge and Dundas the city's symbolic core.


The heart of Dundas Square, itself the "Heart of the City" is peppered with 600 ground spray nozzles, arranged in twenty groups of 30 nozzles each, each group supplied with three two-inch water pipes. On hot summer days, joggers running through the 20 fountains experience
the equivalent of running through sixty firehoses. The entire facility is supplied with three eight-inch water pipes, making it one of Toronto's most "FROLICious" experiences. It is this placement of fun and frolic at the epicenter of civic culture that defines what I mean by "urban beach".


Similarly, the Ontario Science Centre was looking for something "magestic" with which to replace the big but aging fountain out in front of their building.


The hydraulophone that is now the main centerpiece out in front of the Ontario Science Centre serves three main roles:



it is an architectural display fountain, like other large fountains that visually define a landmark, iconic representation, or the like;

it provides an aquatic play experience, and it invites people of all ages to "play in the water";

it is a visual art sculpture, a sound sculpture, and a musical instrument, thus bringing art, music, culture, and play into the mix.

This lends itself to a nice double-entendre: "The Key to good music is to PLAY in the water", i.e. "play" as in playing a musical instrument (or having fun playing
around on a sound sculpture even if you are not musical), and "play" as in what you would do in a playground or aquatic play area.



Children will play in almost any
(...read more...)
[email this story]
Posted by Steve Mann on 12/07